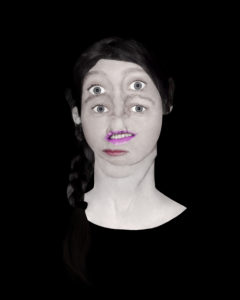 Esther Boesche is a German born, visual artist and photographer. The artist grew up at the sea side of Northern Germany and currently lives and works in Brooklyn. The main focus of EB's practice is sociological and political oriented. EB currently works with photography, drawing, paper arts, sculpture, installation, text art and public interventions. The artist's work is inspired by a deep connection to nature and interest in spirituality and the human soul.
EB began making art as a young child and worked several years as a graphic designer and international arts educator before studying communication design and photography at the renowned Muthesius School of Fine Arts in Northern Germany. Inspired by the work of the great American photographers, she moved to New York City in 2013, and graduated from the International Center of Photography (ICP-BARD College) with and MFA in advanced photographic studies in 2015.
EB is a recipient of the competitive DAAD fellowship for emerging artists and the ICP BARD College Director's Scholarship. The Artists photography work was nominated for the FAPA Prize in 2016. EB was selected for a PhD Fellowship in Philosophy and Photography at Rice University and University of Arizona in 2022.
EB`s work is shown internationally and is included in exhibitions in American museums, galleries and art spaces. The artists works are presented in well known European and American private collections. Boesche's art is published in several books and in highly regarded International art magazines. EB has curated and co-curated exhibitions and pop up shows for international emerging and mid career artist in Brooklyn, and in New York's popular Chinatown and the Wall Street District.
Commercial work:
https://thephotoeditor.cargo.site